SAN DIEGO Thermal Imaging Cameras installation
Non-Invasive Screening Solutions for High-Volume Buildings
In a post-COVID world, it is important for individuals and companies alike to begin looking for ways to protect themselves and those around them as things slowly begin to reopen. Some things are obvious, such as continuing to maintain social distancing, having good hygiene, and wearing masks. Beyond that, the way forward may not be so clear. Many buildings, including healthcare facilities, have implemented an across-the-board policy of checking for fevers before being allowed in. The challenge with this, of course, is that it requires a single person to check every individual as they enter the building. This kind of bottleneck is incompatible with many kinds of workplaces and commercial buildings, to say nothing of the risk to those individuals tasked with screening.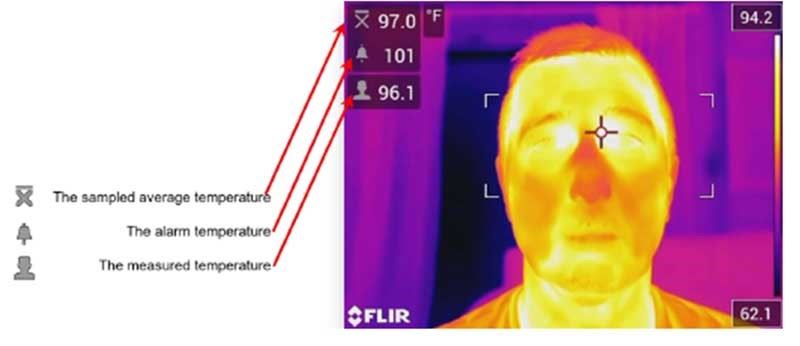 Installing a thermal imaging camera at San Diego business entrances or main thoroughfares may be just the answer you have been looking for. At Silverstrand Technologies, we are proud to stay on the cutting-edge of new technologies that help ensure the safety and security of our customers.
Want to know if our San Diego thermal imaging installation services may be right for your property? Give us a call at (619) 732-0628 today to schedule an appointment.
What is THERMAL IMAGING?
Rather than traffic flow into your building having to pass through a single point of contact, one at a time, the Dahua Thermal Temperature Monitoring Solution can perform rapid screening at a distance of up to 15 feet and monitor up to 30 people per second. This safe and efficient monitoring system, thanks to a blackbody calibration device used as a reference point, is accurate to within about half of one degree (F). Thanks to a powerful network video recorder, our San Diego thermal imaging system allows for a continuous, contact-free solution to monitoring. This software also comes equipped with facial recognition and even can tell you if someone is not wearing a mask.
HOW CAN THERMAL IMAGING HELP MY San Diego BUSINESS?
Just a few of the many benefits of this system include:
Fast and accurate multi-person measurement

Efficient access to the property

Improved safety thanks to contact-free screening

Safe, effective, and non-invasive
Ensuring Ease of Entry While Mitigating Safety Risks
It is important to note that these thermal imaging cameras in San Diego are not a medical device, nor should they be used as the exclusive means of diagnosis for COVID-19 or any other ailment. Having a normal body temperature does not necessarily mean that an individual does not have the virus. However, just like frequent hand-washing or wearing a mask, it can serve as a powerful additional line of defense. We recommend that these thermal imaging cameras be installed at checkpoints in the entryway. If anyone is flagged as having an elevated temperature, they should be re-inspected in person. From there, it is up to the property to determine how to proceed.
Who Can Benefit from tHERMAL IMAGING in San Diego?
Commercial buildings of all kinds may benefit from this system, particularly larger places such as:
Metro stations
Airports
Healthcare facilities
Clinics
Office buildings
Public gathering locations
Having this level of passive, continuous screening can go a long way toward minimizing the risk of exposure as much as possible. With our thermal imaging, San Diego companies can send potentially ill employees to their physician or provide delivery or curbside assistance to customers who might otherwise have put others at risk.
Call Silverstrand Technologies to Learn More
With so much confusion and instability, having access to something that can keep your employees and customers safe goes a long way. Let us work with you and determine what products would work best for your property. Take a look at our glowing reviews as well as our promotions for thermal imaging in San Diego!
For expert thermal imaging camera installation in San Diego, contact our office today. We are here to help.